Tour Feature
The price is based on 2 persons private tour.
No shopping stop!Authentic tour,Best experience!
Dumplings, wontons, stuffed Sichuan pancakes, brown sugar rice cakes and the renowned Sichuan hot pot… so many things to try. Where is the best place to try them? Follow our local guides to discover the culture of Chengdu's cuisine.
What to Expect
Try and find your favorite local snacks inJinliSnack Street
Relax in a hundred-year-old local tea house and sip a glass of green tea
Enjoy a typical, traditional, tasty hot pot feast
Itinerary
Lunch & DinnerJinli Ancient Street
This tour is designed to be enjoyed at a relaxing pace, and will last about 5-6 hours. It is flexible, and you can start early in the morning or later at noon, whichever you prefer. Your private guide and driver will be waiting for you at the lobby of your hotel.
First we go to Jinli Ancient Street, where you can have a relaxing walk, admire the traditional-style buildings, and try various local snacks. There is so much to choose from. If you need any advice, your local guide will be on hand to say what and where you might eat.


Heming Teahouse
Eventually you will reach the Heming Teahouse. It's almost 100 years old, and is situated in the peaceful outdoor courtyard of a park. There's no better way to blend in with local people's lives than this, sitting next to them and sipping a glass of local green tea.


full hotpot feast
At the end of the day, prepare to enjoy a full hotpot feast. We will arrange the hot pot with two types of soup and an array of meat, vegetables and local dishes.
After the big meal, your guide and driver will escort you back to your hotel for a restful evening.


Service Includes
Our 1-to-1 expert China consultancy with unlimited itinerary changes
Booking of China internal flights, trains, and cruises, per your preferences
Your own team-trained, versatile and knowledgeable tour guide
Your own chauffeured and comfortable vehicle, chosen for ample space
Entry to all attractions on your itinerary, with queues avoided wherever possible
Our 24-7 helpline for while you are travelling
Suggested Activity to Enrich Your Tour
Would like to make your tour more unique? Why not enrich your tour with our exclusive activities. Feel free to get your personal travel expert add it for you.
Mahjong Experience (3 hours)
Mahjong (/mɑːˈʒɒŋ/) is a tile-based game that originated in China 300 years ago. Commonly played by 3-4 players, Mahjong is a game of skill, strategy, and calculation. It plays an important part in the daily lives of many Chengdu people.
Your local guide will be happy to show you how to play it, hand by hand, in a local tea house. It's a good way of experiencing local life.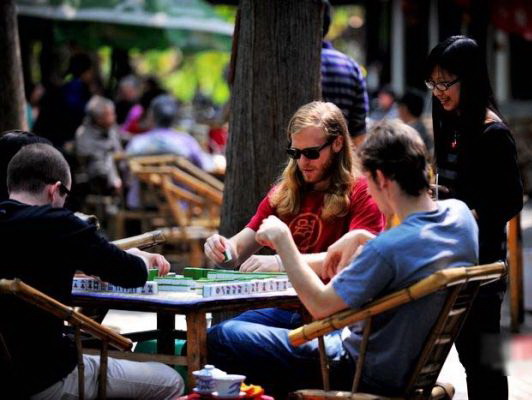 Trip Note
Customizing the Tour — According to Your Needs
This tour is very flexible. You can alter the itinerary, and extend or shorten it to suit your schedule.
For example, you can decide the pick-up and drop-off spots or add more activities to enrich your day.